Former Students
The College of Arts & Sciences
The colleges of Geosciences, Liberal Arts, and Science are becoming the College of Arts and Sciences in Fall 2022.
As the academic heart of Texas A&M, the College of Arts & Sciences will provide world-class teaching, research, service, & resources.
Learn More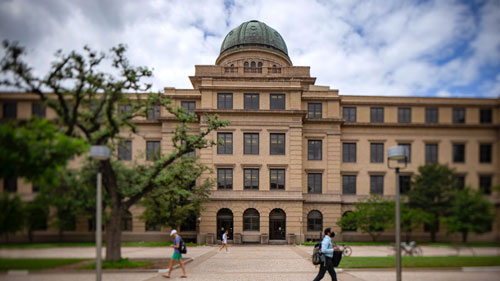 Liberal Arts Needs Your Support
The College of Liberal Arts is fortunate to have former students and friends who are committed to moving the college to the forefront of education at Texas A&M University. The partnerships with our former students and friends allows our college to meet our goals of providing a transformational learning experience to each student, conducting research that has a national and global impact, and providing a platform for civic engagement and outreach.
Texas A&M University announced a $4 billion capital campaign in November 2014. Each college is responsible for fundraising for their key initiatives believe to have the greatest impact on our state, nation, and world. Below are the areas Liberal Arts will focus its fundraising efforts.
First-generation scholarships

Brain science

Behavioral economics

Entrepreneurship studies
Learn more about our key initiatives, ways to get involved with the college, and how you can invest in the future of Liberal Arts.